CGX Quick-20m Collection
$25,900.00
The Collection package includes FDA-Cleared  CGX Quick-20m Headset System with NeuroGuide Acquisition for CGX/Cognionics (NGA-Cog).  Save $600.
Description
Dry Wireless CGX Quick-20m Headset Plus
NeuroGuide for Acquisition for CGX/Cognionics (NGA-Cog)
Bundled products are significantly discounted because they include EEG amplifiers and NeuroGuide™. Each package includes one year of free software updates!
Fully redesigned wireless headset. The CGX Quick Series is well regarded for generating research-level data from their active dry and semi-dry polymer electrodes. The new FDA-Cleared CGX Quick-20m features electrical, mechanical and structural enhancements for faster set-up, extended wear time, enhanced reliability, and artifact immunity.
Each CGX Quick-20m Dry Wireless System Includes:
Full 10/20 International System with Support for Linked Ears
One Easy to Put on 

Quick-20m Headset (including 1 ExG

Channel)

and Wireless Amp
Supports Head Sizes 52 cm to 62 cm with Minimal Adjustments

20 Drypad Sensors

10 Drypad Ear Sensors
40 Flex Sensors
20 HydroFlex Sensors
A1 Earclip
A2 Earclip
3 Active Lead Wires
2 Passive Lead Wires
30 Skintact Sensors
24-bit High Resolution Digitizer – No Clipping or Signal Loss

Bluetooth Dongle

5 Alcohol Wipes

4 Rechargeable Batteries
Battery Charger
A Carrying Case with Foam Inserts
2 Year Warranty
To make real-world EEG acquisition possible, the Quick-20m uses a highly optimized combination of sensors, mechanics, and electronics to eliminate unwanted artifacts.
Combination of active electrodes and active shielding
Resistant against electrical and movement artifacts
Real-time measurement of sensor impedance
Research-quality EEG amplifier: 24-bit ADC, low-noise, high dynamic range inputs with flexible configuration of sample rates, bandwidth and channels.  Like all Cognionics devices, the Quick-20 is designed to interface with hardware and software tools for advanced neuroscience research.
Easy, 

Fast and Mobile:  
The Quick-20m is a complete portable EEG system in a wearable, lightweight package.
Stream data wirelessly via Bluetooth.
Low-noise dry electrodes require minimum prep and no clean-up
Fully wireless: no cords for data recording or triggering
Comfortable without any restrictions on subject movement
Lightweight and wearable
General
Weight: 450 grams
Adult size, Fits heads 52 to 62 cm
Child size available separately, fits heads 48.5 to 56.5 cm
Prices for NeuroGuide Basic, NGA and add-ons that are not bundled with EEG amplifiers are available on our Order page.
Email qeeg@appliedneuroscience.com to obtain a quote that includes an additional NeuroGuide add-on(s) or an extra set(s) of electrodes, if desired.  Also, ask for an estimate of monthly payments if financing is desired.
Federal (US) law restricts this device to sale by or on the order of a physician. The Quick-20m requires operation by a healthcare professional familiar with EEG. Instructions for use can be found in the product labeling supplied with each device.
Photos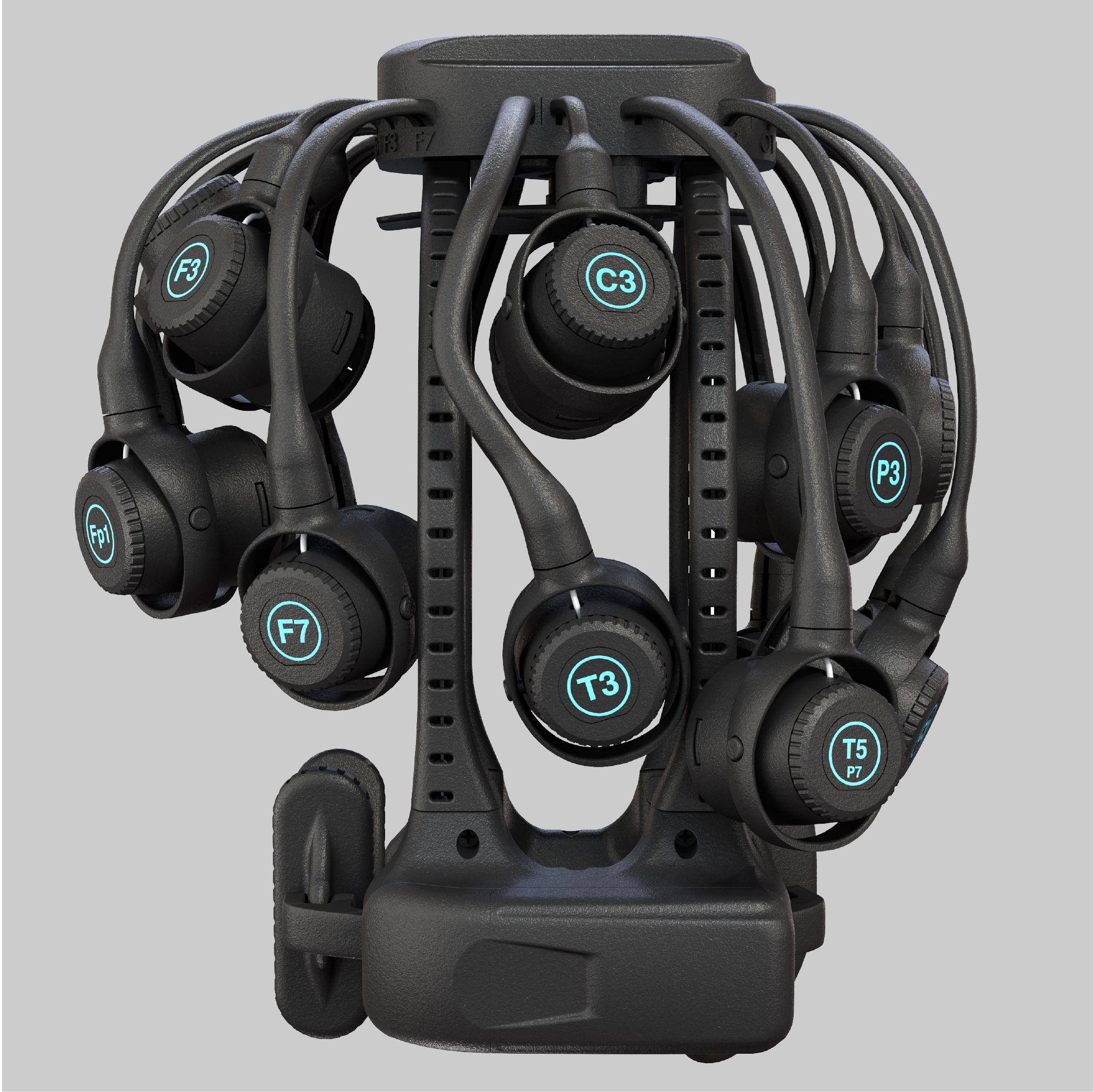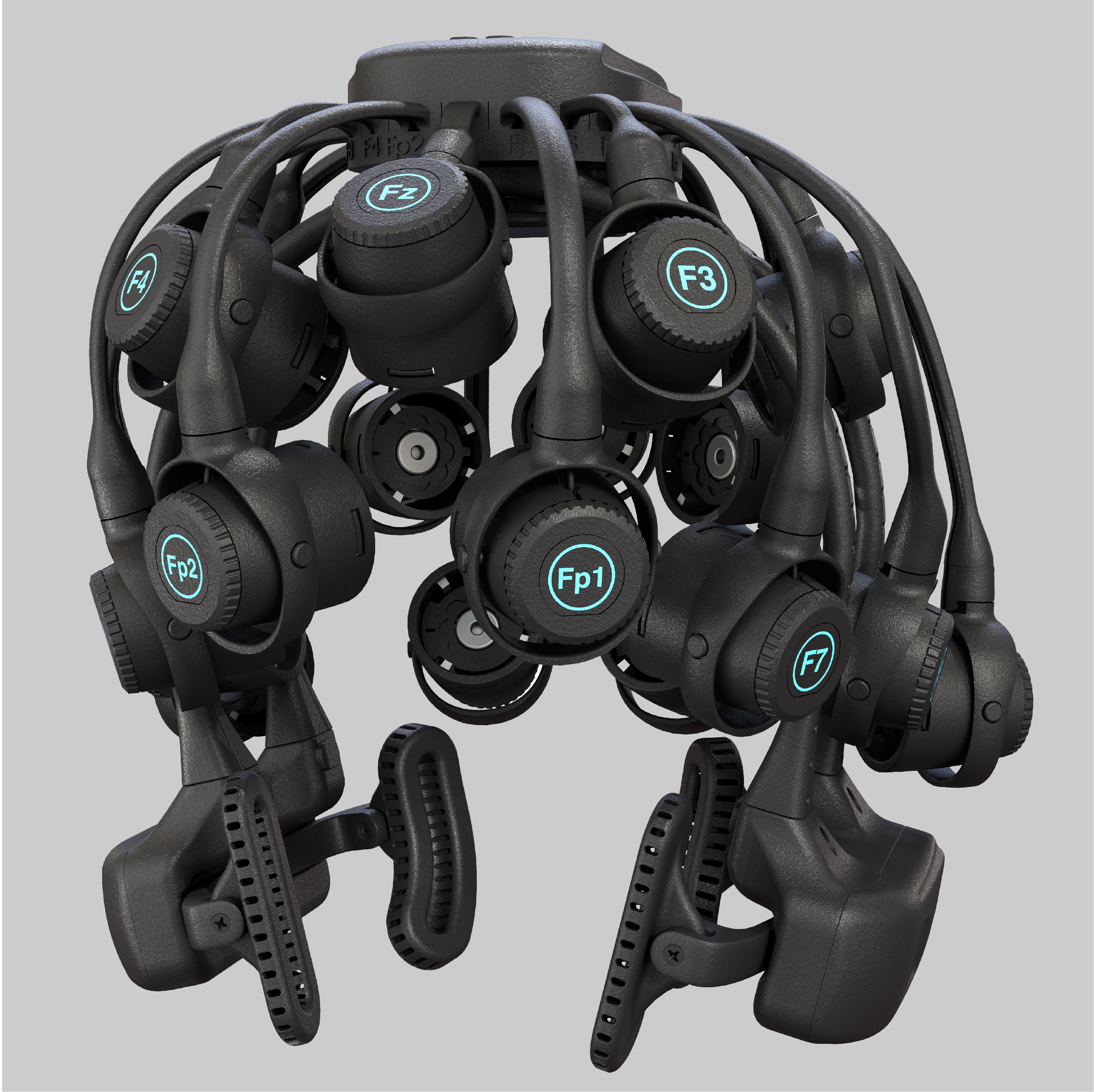 Specs
Specifications
Wireless Amplifier:
A/D Resolution: 24-bit simultaneous sampling analog-to-digital converters.
Sampling rate: 500 samples per second.
Bandwidth: 0-131 Hz with true DC coupling.
3-axis accelerometer measures head motion.
Wireless Range: 10 meters.
Noise: <1.0 μV RMS from 1-50 Hz, shorted inputs.
Compatible with optional CGX Wireless StimTrigger.
Compatible with optional AIM Gen 2.
Sensors:
Active electrodes and active shielding for highest signal quality
Choose DryPad, Flex, or HydroFlex sensors at any position:

The Drypad electrode is intended for surface recordings (ECGs, EEGs on hairless skin). Lifecycle: 1,000 uses. Sold in packs of 10 each. Impedance: 10-100 KΩ on unprepared skin; Electrode Material: Ag/AgCl core; Offset: < 100 mV (Max.) ; and Pad Diameter: 0.67″ and 0.96″
The Flex Sensor is a patented flexible dry electrode designed specifically to overcome the limitations with dry EEG. The sensor is optimized for sliding through hair for high-quality scalp contact. Low-noise EEG recordings are possible without the need for any scalp preparation, wet gels or cleanup. Lifecycle: 200-400 uses. Sold in packs of 10 each. Impedance: 100-2000 kΩ on unprepared skin; Electrode Material: Conductive Elastomer; Contact AG/AgCl and Connector: Cognionics snap-on connector
HydroFlex Sensor is intended for both skin surface recordings and through hair applications. The high quality super-soft sensor work on sensitive skin. Simply dab with solution to achieve wet sensor response. All of our sensors are designed and optimized specifically for use with Cognionics headsets. Lifecycle: 50 uses. Sold in packs of 10 or 100 each.
All of the sensors are designed and optimized specifically for use with Cognionics headsets.
Data Stream:
Bluetooth Low Energy.
Full access to raw data via real-time streaming API
Continuous impedance check with real-time monitoring of all channels simultaneous with EEG
Export data to BDF, EDG, or CSV
Compatible with NeuroGuide, MATLAB, NeuroPype, LabSteaming Layer, EEGLAB, BCILAB,  BCI2000, OpenViBE  and more
Open API allows you to build your own applications
Power:  Two AAA batteries: 6 hours.
Cleaning : Hand wipe between sessions
General:
Weight: 596g in use
Fits heads sized 52-62 cm
Dimensions: 20 x 18 x 19 cm