Information about NeuroGuide's Hub and Spoke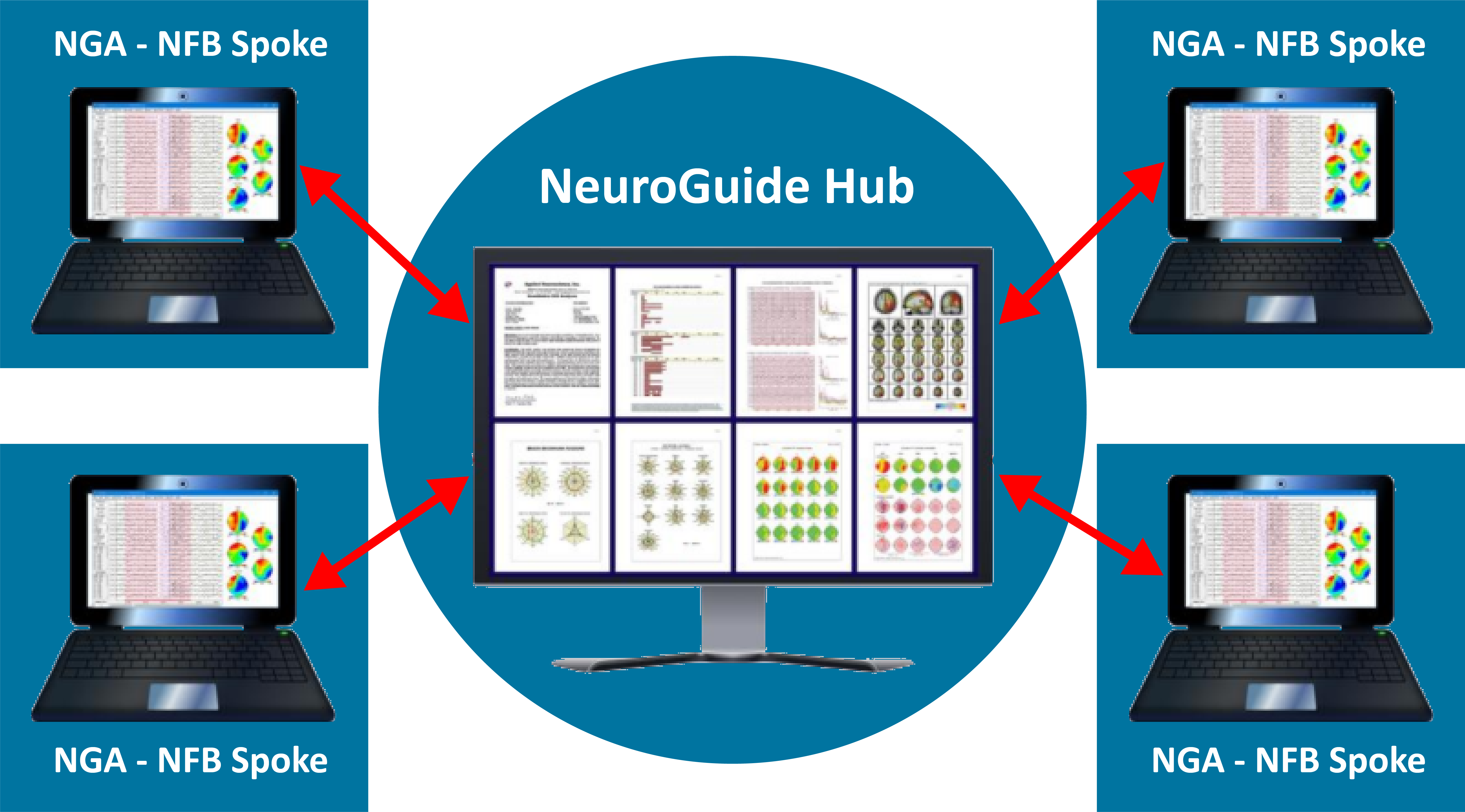 What is it?
The NeuroGuide Hub and Spoke is a cost-effective way to offer remote QEEG recording and Neurofeedback training during this time where everyone is trying their best to self isolate. More importantly, many of your clients & patients are in desperate need of Neurofeedback training for preexisting symptoms, as well as, any new symptoms arising from the COVID-19 pandemic now you can offer them a safe alternative, in-home QEEG Assessments and Neurofeedback training services to those in need. Whereas NeuroGuide (NG) can be used to run one or more high volume clinics, it can also be used to analyse QEEGs and prepare .scl, .swl, .so5 & .so8  files from QEEGs collected on remotes NeuroGuide Acquisition (NGA) systems provided to patients & clients. The NGA is used to just record and train as needed while you monitor and control the recording from a remote office or from the comfort of your own home.
How does it work?
It is based on ANI NeuroGuide Acquisition (NGA) software which is a cost effective QEEG Recording and Neurofeedback training software specially developed to work with your main NeuroGuide system. The NGA software allows you to record QEEGs and perform Neurofeedback training. This system will not edit EEGs and/or provide any outputs, since all these functions can be performed by the NeuroGuide license you already have. Here is a general outline of the steps to achieve remote training:
Use an app where you can see the setting and control the client's computer. The best way to do this is use TeamViewer or Zoom to control the computer and use Facetime, WhatsApp or Skype to video conference with the remote site.
Train someone at the remote site to properly apply the cap.
Record the QEEG as you normally would by controlling the remote computer. Watch the client using your smartphone (or video conferencing on the computer, which TeamViewer and Zoom have, although it is better to use the smartphone).
Transfer the recorded QEEG file to your NeuroGuide. This can be done by copying the file to a cloud-based storage like Google Drive, OneDrive or Dropbox, preferably a HIPAA Compliant service.
Bring in the file to your NeuroGuide system and do the assessment as you normally would and prepare the protocol.
Transfer the protocol to the cloud-based storage.
At the time of the training session grab the protocol and begin training.
Using this strategy, you can run your clients remotely as you would in your office.
After the current client or patient has completed their course of treatment, they arrange for the equipment to be returned to you for a thorough cleaning.  While preparing Equipment for the next client or patient download & install NeuroGuide on the next Client's computer and provide us with the Customer ID and the License ID of the NGA you are transferring to the next client or patient's computer.
What is Needed at the Remote (or Client) Site?
Amplifier (you can use one you have and/or purchase a cost effective one – see below)
Electro-Cap with enough supplies to do the recording, training and cleaning
NeuroGuide Acquisition (NGA) with the Neurofeedback option of your choice. You can bundle the NGA with one or more of the following training modules:
NF1 – 1 to 19 Channel Surface Z Score Neurofeedback
NF2 – 3 Dimensional sLORETA Z Score Neurofeedback
NF3 – Surface Cross Frequency Coupling Z Score Neurofeedback
SURF – Brainsurfer, Brain-Computer interface, sLORETA Z Score Neurofeedback
swNF – 3 Dimensional swLORETA Z Score Neurofeedback with Cerebellar ROIs.
What will this cost me?
Between  $ 3,500 – $ 4,500 when purchasing one of the options at the bottom of the page and paying in full.
If you want to use our 10 month Payment Plan – Add %5 for the Service Charge and contact us using the information below.
For more information, a quote and/or help in placing an order:
e-mail: qeeg@appliedneuroscience.com
Include the following:
Your Phone Number  –  if you want to speak with one of our representatives
the Number and Type(s) of Amplifier(s) You Currently have Available to Loan Your Customers
The Type(s) of Neurofeedback You Wish to Purchase or Want to Learn More About
the Number and Type(s) of Amplifier(s) You Plan on Purchasing to Loan Your Customers